Skip to content
GIFT WRAPPING SERVICE $20 and up
DROP OFF
Gifts are to be dropped off Sunday, December 18th between 11-6 in bag(s) (trash bag, etc) with either names attached to the gift OR a list of which items belong to whom to ensure accurate tagging.  Post it notes may fall off.  We suggest dropping off your gifts with the list we will email to you upon receiving your reservation.
PICK UP
Wrapped gifts may be picked up 10-8 Monday 19th or Tuesday 20th.  
COST
Using our paper:
$1.50 per gift
If your final total exceeds the $20 fee you paid, The $20 fee will be deducted from the check when you pick your items up and you will pay the balance.
If your final total is less than $15, you will not owe any more money but you will also not receive a refund.
Using your paper:
You will not owe any more money when picking your gifts up; the $20 fee is your final total.
ADDITIONAL NOTES
Embellishments such as ribbon, tie-ons and tags included.
You will receive a card worth $10 off your next visit when you pick up your wrapped gifts.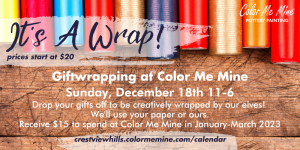 Top